SDT SonaVu – Acoustic Imaging Camera
Powered by SDT
SonaVu™ is a multi-frequency acoustic imaging camera that takes airborne ultrasound inspection to an entirely new level. Equipped with 112 highly sensitive sonic sensors and a precision optical camera, SonaVu™ brings the power of super-human hearing to focus on its vibrant, color touch screen. It unlocks limitless applications for asset reliability, energy conservation, and safety including compressed air leak management, electrical asset reliability, tightness control of large volumes, and much more.
Identify Compressed Air Leaks
Compressed air is misunderstood. With 75% of costs consumed by electricity, system leaks can eat away 35-40% of demand. Leaks erode profits and pollute the environment, SonaVu™ can help.
Enhance Electrical Asset Reliablity
Unreliable electric assets cost millions in downtime and repairs with the potential to maim and kill. Detect symptoms of insulation failure, a primary cause of outages.
Safely Detect Fugitive Emissions
Fugitive emission of gas and vapor from pressurized systems carry an economic cost to the producer, while contributing to global pollution. Identify their source from a safe distance.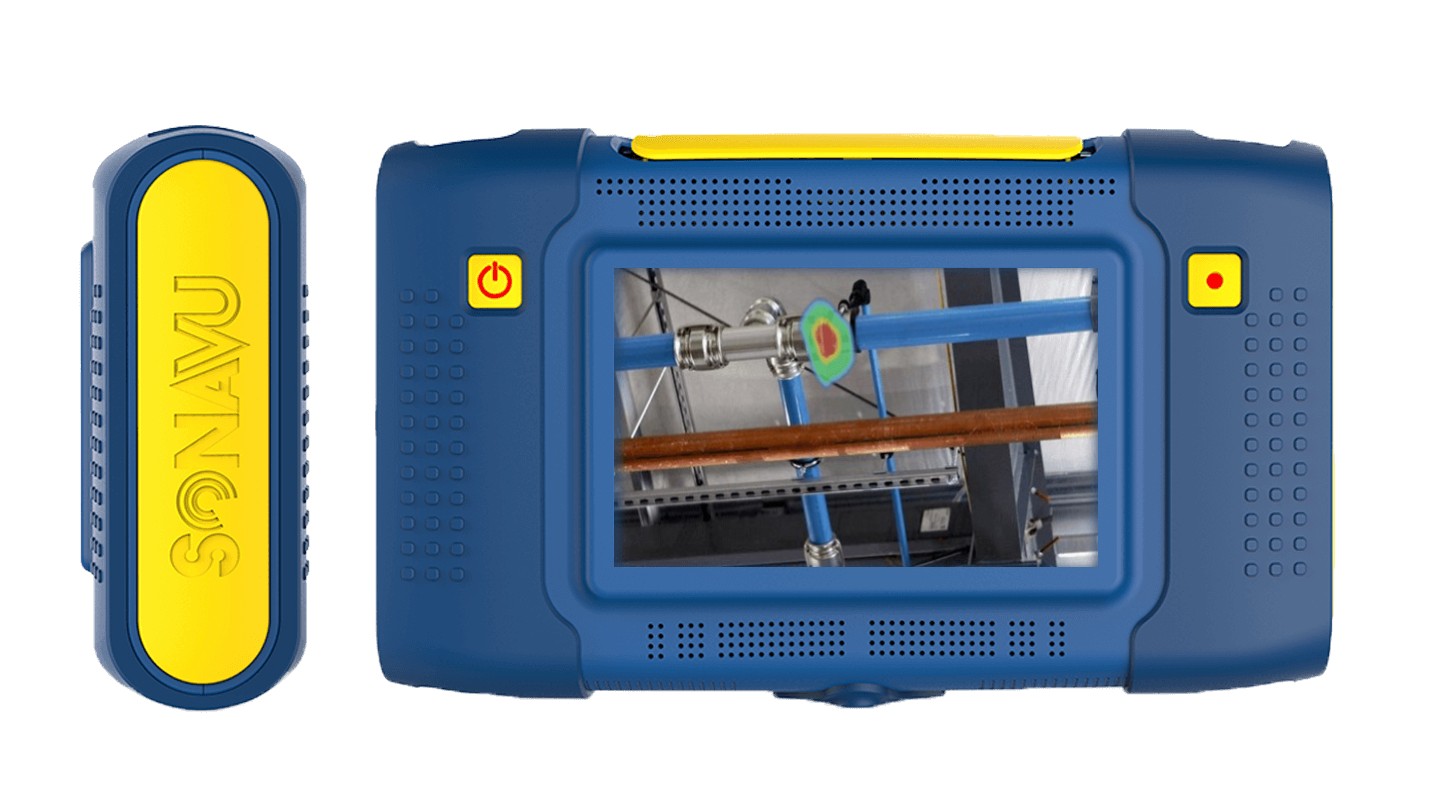 SonaVu Specifications
Sensor (Microphone)

112 Channel Digital MEMS

Effective Frequency Range

2kHz to 48kHz

Microphone Sensitivity

-41dBFS

Signal-to-Noise Ratio

66 dB(A)

Camera Frame Speed

25 FPS

Detection Distance

0.3m to 50m (11.8 inches to 164 feet)

Display Type

5" Color LCD + Touch Screen

Battery Life

4 Hours

Product Dimensions

237 mm x 146 mm x 56 mm (9.3 in x 5.7 in x 2.2 in)

Product Weight

1.2 kg (2.64 lb)

Operating Temperature

-20°C to 50°C (-4°F to 122°F)