FLIR GF77 – Uncooled Optical Gas Imager
A Versatile Solution for Gas Detection and Thermal Inspection
The FLIR GF77 is a groundbreaking uncooled optical gas imaging camera with interchangeable lens options that detect methane, sulfur hexafluoride (SF6), ethylene, ammonia, and other gas emissions. Capable of both gas detection and radiometric temperature measurement for thermal inspections, the GF77 is ideal for electric power utilities, oil and natural gas operations, chemical/manufacturing facilities, the food and agriculture industry, and first responders. This affordable solution offers the benefit of built-in thermographic calibrations and the flexibility to detect a wide range of gases by simply changing lenses.
Affordable Optical Gas Imaging
From laser-assisted autofocus to 1-Touch Level/Span contrast enhancement, the GF77 offers the latest high-tech features while remaining affordable.
Maximize Efficiency
Safely locate gas leaks and perform accurate thermal inspections using one camera.
Streamline Inspections and Reporting
Work easier with the ergonomic design, tools to organize findings in the field such as GPS, Wi-Fi, and annotation, and rapid-reporting capabilities.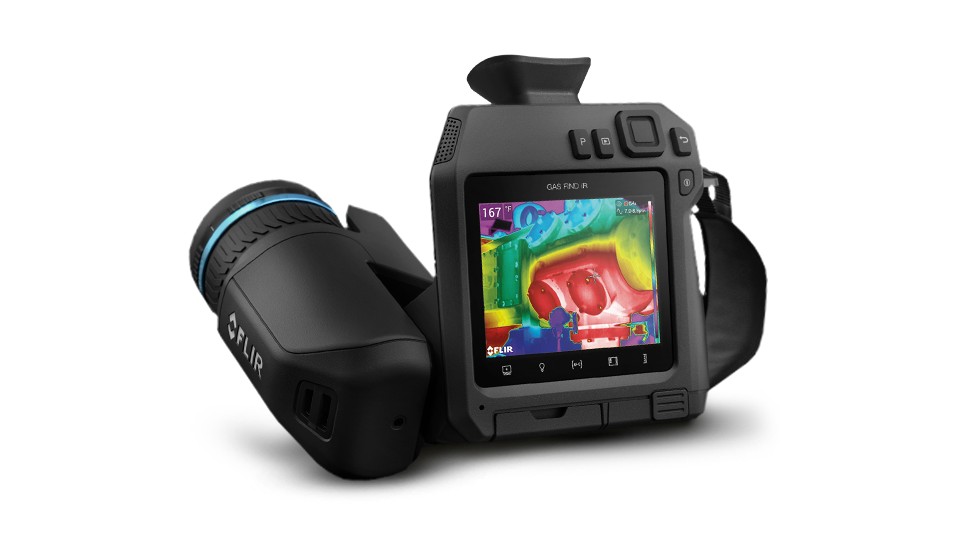 GF77 Specifications
Detector Type

Uncooled Microbolometer

Detects Following Gases

Methane, Nitrous Oxide, Propane, Sulfur Dioxide, R-134a and R-152a

Standard Temp. Ranges

Range 1: -20 to 80°C (-4 to 158°F)

Weight [incl lens & batteries]

1.54 kg (3.4 lb) w/ 25° lens

Ambient temperature range

–15°C to 50°C (5°F to 122°F)

Available Lenses

6° LR, 25° HR, 6° HR (service calibration required)

IR Resolution

320 × 240 (76,800 pixels)

Radiometric IR video recording

Real-time radiometric recording (.csq)

Battery operating time

>4 hours at 25°C (68°F) with typical use