SDT340 Advanced Ultrasound System
Detect, Trend, and Analyze Ultrasound and Vibration
Enhance productivity in the field with on-screen time signal, spectrum, split screen view, and icon navigation.
The 3.5'' color display gives you a crystal clear view in the darkest conditions.
Experience enhanced impact detection with focUS Mode. See defects others simply cannot.
Record time waveform data up to 10 minutes in duration with enhanced signal data.
Pan and expand your time signal or spectrum and list the highest values to improve in-field diagnosis.
Recall historical data for trending and alarming in-the-field acquisition.
Cut the cord with SDT340's high definition Bluetooth headphones.
The intuitive interface to UAS4.0 allows for data collection in "off-route" mode.
UAS3
ULTRANALYSIS® SUITE 3 (UAS3) is the most powerful ultrasonic measurement management software ever designed for maintenance professionals.
UAS3 allows ultrasonic maintenance technicians to efficiently maintain their systems by creating a database and collecting, managing, and analyzing data with ease and reliability. UAS not only manages your ultrasound measurements but also vibration, temperature, and rotational speeds.
The seven-level tree structure is standard to organize and manage your asset condition information. Available in single user or network version.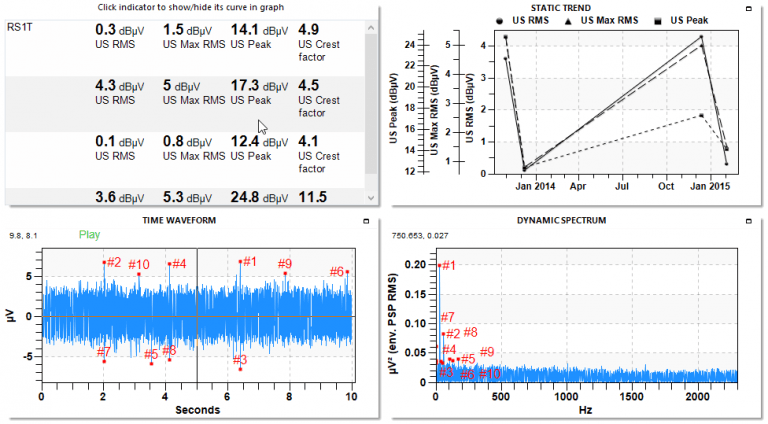 Static Trend
Build your trend directly from the measurement matrix by clicking on the condition indicators you want to see. Overlay Acceleration, Velocity, Ultrasound overall and max RMS, Peak, Crest Factor, RPM and Temperature for direct defect correlations and comparisons.
Time Wave Form
UAS3 adds powerful levels of control and functionality. A new timeline bar drills down to the millisecond of any measurement sample. Then, use the Sample Disposal icon to remove unwanted portions of the signal. Once deleted, UAS3 does a smart recalculation of the condition indicators. No other software allows you the flexibility to remove bad data and recalculate in the comfort of your office chair.
The Spectrum
The 3rd generation of UAS features a new and innovative algorithm for ultrasound signal processing. We can say, with full confidence, there is nothing else like this in the market. The Ultrasound Envelope Power Spectrum (UEPS) displays the source defect frequencies. UEPS displays the primary and harmonic frequencies of any machinery defect.