Easy-Laser E710 – Shaft Alignment System (Demo Unit)
Easy-Laser® E710 is an alignment system that is complete in its full meaning. It does not just give you all the functions for shaft alignment, it also gives the opportunity to check the machine base and any bearing play using the standard equipment.​
Programs for horizontal machines, soft foot checks, machine trains, vertical/flange mounted and cardan/offset mounted machines are included. Furthermore programs for straightness, flatness/twist and parallelism measurement are included. Using accessories you can also align sheaves/pulleys with digital precision and check vibration levels. Large, clear color screen, wireless measuring units (included as standard), long operating life and robust design give a measurement system that is both reliable and easy to use.
Easy to use = fast and efficient
When we talk about simplicity we mean several things, for example, simple to place or mount the measurement equipment on the measurement object, easy to perform the measurement and easy to interpret the measurement result. With Easy-Laser® E710 you can measure all types of rotating machinery, large and small, equally well, regardless of shaft diameter.
Wireless measuring units (laser/detector) enable you to work more freely. The measurement values can be registered with only 40° rotation of the shafts. You can then align it "live" using the measuring units in any position around the shaft. The programs guide you step-by-step through the measuring procedure for the perfect measuring result.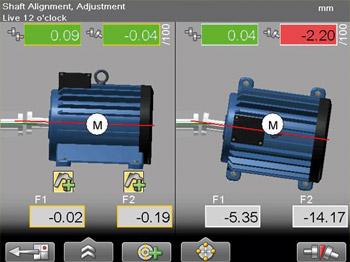 Horizontal machines
Horizontally mounted machines often consist of a pump and a motor, but can also include other types of machines such as gearboxes and compressors. Regardless of the machine type, it is easy to measure and align with Easy-Laser®. The measuring units (M and S) are easily mounted on each side of the coupling and communicate with the display unit wireless.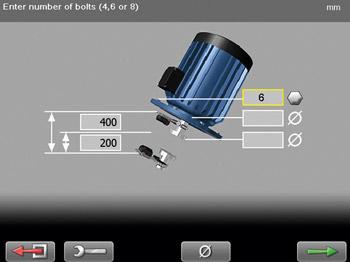 Vertical/flange mounted machines
This program is used for alignment of vertical and flange-mounted machines, e.g. pumps, motors, gear boxes. Shows centre offset, angular error and shim value at each bolt.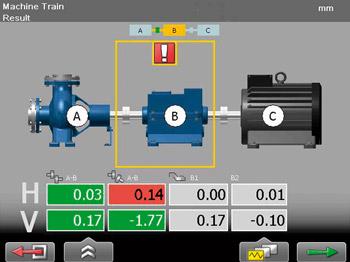 Machine train
Regardless of what machines you have and in which order they were assembled, you can build your own machine train with theoretically as many machines as you like. You can pick the reference machine manually, or let the program choose one that will minimize the need for adjustments.